WIT Life #94: Beard Papa and other familiar favorites
WITLife is a periodic series written by professional Writer/Interpreter/Translator Stacy Smith (Kumamoto-ken CIR, 2000-03). She starts her day by watching Fujisankei's newscast in Japanese, and here she shares some of the interesting tidbits and trends together with her own observations.
Today is our last full day in San Francisco, so I decided to explore some of the offerings in the immediate vicinity of where I am staying, Hotel Nikko.  Here in the lobby there are so many Japanese customers that I occasionally get flashbacks to the many times I spent in Kumamoto's Hotel Nikko at various events during my time on JET.  Natsukashii!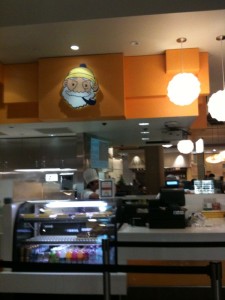 I went for a walk to the local mall with my co-interpreter who was on a mission to find cream puffs.  I had no idea that Beard Papa had an outpost here on the West Coast, but sure enough there he was in the basement's fancy food court!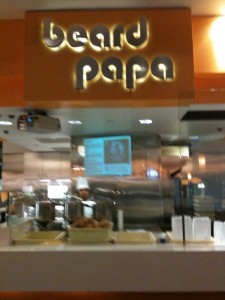 (There are also other stand-alone cafe locations throughout the Bay Area.)  Tonight's flavors didn't turn me on (aside from regular, the flavor of the week was strawberry), but I was sad to see that I had missed stopping by when I was in town two weeks ago.  The flavor of the week at the time had been kabocha (pumpkin), which I absolutely love and have not yet tried in a cream puff.  They have a handy little calendar posted by the register so you can check what upcoming flavors of the week will be.  Will have to keep closer tabs next time!
Here in SF, besides Japantown you can also get 和菓子 (wagashi) at the nearby 源 吉兆庵 (Minamoto Kitchoan).  We didn't venture outside as it was raining, but it was good to know where it is located should an emergency need for anko arise during a future stay and I don't feel like making the trek to Chinatown.  After a brief stop in Sacramento our next destination is Houston, which I suspect will have less to offer in terms of Japanese sweets though I will certainly be on the lookout…