Japan in Transition, Yet Again
WITLife
is a periodic series written
by professional Writer/Interpreter/Translator
Stacy Smith
(Kumamo
to-ken CIR, 2000-03). She starts
her day by watching Fujisankei's newscast in Japanese, and here she sha
r
es s
ome of the interesting tidbits and trends together with her own observations.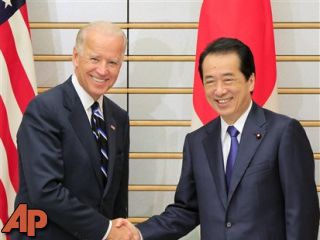 Yesterday's NYT featured two articles relating to Japan's financial and political situations.  The first discusses how Moody's lowered Japan's credit rating by one step to Aa3, the fourth-highest grade (Standard & Poor's had brought them down to AA back in January, putting them on par with the U.S.).  The second recounts Vice President Biden's recent trip to Japan, including a stop-off in of Tohoku.  He served as a source of encouragement to some of the survivors he met in the disaster area.
Biden's visit came at a time of great political turmoil, as it is forecast that Prime Minister Kan will be stepping down next week.  A partywide ballot to decide a new party leader is expected on Monday, with the new leader being appointed prime minister on Tuesday.  Kan indicated his desire to remain in power until two major bills were approved by Parliament, one related to increasing government bond issuance and the other promoting renewable energy (His other condition was passing a bill on supplemental spending, which happened last month).  It is unclear how this shift in power, the 6th Japanese PM in five years, will affect the country and its recovery, but in a recent poll 75 percent of respondents said they want the next administration to stick to Mr. Kan's policy of phasing out nuclear power.