WIT Life is a periodic series written by professional Writer/Interpreter/Translator Stacy Smith (Kumamoto-ken CIR, 2000-03). She starts her day by watching Fujisankei's newscast in Japanese, and here she shares some of the interesting tidbits and trends together with her own observations.
I am heading home after spending two glorious weeks in Japan enjoying delicious food, soaking in multiple onsens, meeting up with natsukashii friends and running two marathons!  Needless to say I feel a bit sabishii about leaving, but I am already looking forward to my annual visit next year.
One thing I noticed more than before was an increase in advertising that utilizes the concept of "New York" to appeal to customers.  In many cases this seemed to be a very loose correlation, but nonetheless effective.  I first spotted the "Big America" burger being advertised at McDonalds.  Pictured here, you can see that in katakana it says "Broadway Burger."  I'm not sure what qualifies it as such, but the size is definitely larger than your standard Japanese burger.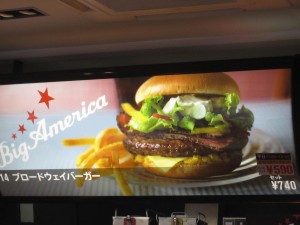 My next sighting was at Burger King, which is offering the NY Sundae (BK New York Style Sweets).  This sundae, which comes in regular and raspberry, features crunchy French toast with ice cream on top.  I don't know what about this sundae makes it "New York Style" and didn't have a chance to sample it, but I could see that being a delicious combination.  I love how they put a mini Statue of Liberty in the middle of the product name to enhance its authenticity.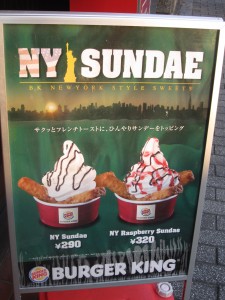 However, I will take Japanese style sweets over New York ones any day, and certainly enjoyed my share of wagashi on a daily basis during this trip.  I am always sure to leave Japan with some of its various KitKat flavors, and this time I found both green tea and cherry blossom green tea (limited edition for sakura season) at the airport.  I also searched for azuki which is one of my favorites, but didn't have any luck.   I saw wasabi but opted to pass on that one…