WIT Life is a periodic series written by professional Writer/Interpreter/Translator Stacy Smith (Kumamoto-ken CIR, 2000-03). She starts her day by watching Fujisankei's newscast in Japanese, and here she shares some of the interesting tidbits and trends together with her own observations.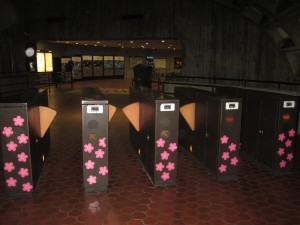 I'm down in DC to begin a new business trip, and was thrilled when I found out my assignment would coincide with the famous Sakura Matsuri.  This year is extra special as it marks the 100th anniversary since the 3000+ trees were gifted from Japan to the U.S.  Even the Metro gets into the spirit, as you can see with their turnstile decorations.  Due to the warm weather it is doubtful that the blossoms will last until the conclusion of the festival at the end of the month, but I hope to do some hanami while I'm here.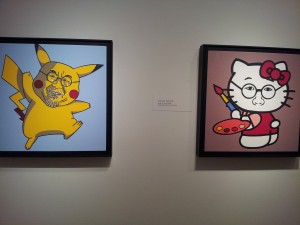 On another Japan-related note, today I went to see an interesting exhibit at the National Portrait Gallery entitled "Asian American Portraits of Encounter."  It features several different Asian American artists, including three Japanese.  One is Satomi Shirai based in New York, the second is Shizu Saldamando based in California, and the last is Roger Shimomura based in Kansas.  I was especially taken with the work of Shimoura, who as a child was relocated to an internment camp in Idaho along with his family during World War II.  His displayed works are all self-portraits, and according to Shimomura through them he strove to battle "oriental" stereotypes or conversely become them.  As an example of the latter I particularly liked the two works shown here side by side, American Pikachu and American Hello Kitty, where the artist takes the form of these iconic images.
The non-Japanese artists also share some really thought-provoking work, so this exhibit is definitely worth checking out.  It runs through October 14, admission is free and it is open daily from 11:30-7.