Super Cool Biz/Cool Share
WIT Life is a periodic series written by professional Writer/Interpreter/Translator Stacy Smith (Kumamoto-ken CIR, 2000-03). She starts her day by watching Fujisankei's newscast in Japanese, and here she shares some of the interesting tidbits and trends together with her own observations.
As early summer heats up in Japan, the country is trying to figure out how it will satisfy its energy needs now that all 50 of its nuclear reactors have been taken offline to be checked.  With expected cutbacks in electricity consumption, some supermarkets have adjusted their operating hours to open two hours early for consumers who want to shop in the cooler morning hours.
Another idea is the implementation of Super Cool Biz, building on Japan's previous Cool Biz boom.  This fashion trend was created in response to the decreased use of air conditioning in Japanese offices for the purpose of energy conservation, and enabled employees to eschew ties and jackets.  However, Super Cool Biz takes it a step further and also allows them to wear things like polo and Hawaiian shirts, chino pants and sneakers.  The icon on the right also suggests beating the heat with things like fans and sun umbrellas.
Building on this concept is Cool Share, an idea that took shape in Saitama.  "Share" refers  tohaving people effectively and efficiently stay cool by operating out of one room of the house, cooling off at a library or other public facility, or going to cool places with lots of nature.  In the city of Kumagaya, retailers are offering free drinks and discounts at neighborhood restaurants for those customers who turn off their AC to gather in these places.  Also, hundreds of hair salons are providing special cooling shampoo services.  The incentive for Cool Share was last year's brownouts, when a professor at Tama Art University and his students tried to come up with creative ways to motivate people to get involved with energy saving.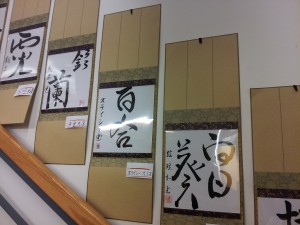 And now for some shameless self-promotion…I take shuji (calligraphy) classes under the tutelage of the wonderful Kitasato Sensei, and our class currently has a display at Kinokuniya Bookstore across from Bryant Park.  You can find works from myself and my classmates on either side of the stairway leading up to the second floor (mine is pictured here in the center).  Our calligraphy will be featured until June 11, so make sure to check it out sometime this week!