WIT Life is a periodic series written by professional Writer/Interpreter/Translator Stacy Smith (Kumamoto-ken CIR, 2000-03). She starts her day by watching Fujisankei's newscast in Japanese, and here she shares some of the interesting tidbits and trends together with her own observations.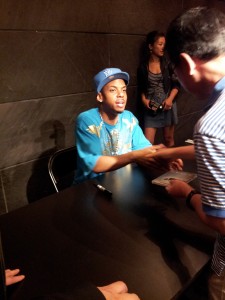 I never thought I would say this, but last night I was captivated by the strains of enka.  However this was not your typical enka, it was this style of Japanese music performed by none other than Pittsburgh-born singer Jero.  This 30-year old celebrity in Japan learned enka thanks to his maternal Japanese grandmother.  As early as five he began singing ballads to entertain her, and from this young age he had a dream of becoming an enka singer.  He has achieved this success in spades, debuting with his hit single 「海雪」 (Umiyuki, or Ocean Snow) four years ago.  He went on to create numerous other hits, including an original one dedicated to his mother who raised him on her own.
The event I attended took place at Japan Society and was entitled "Let's Enka! with Jero."  It began with an interview where Jero shared how his childhood dream had became a reality, including how at one point he contemplated packing it in and heading home.  Wearing a powder blue suit and matching baseball cap, he enthralled the audience with nine of his enka hits as well as entertaining banter in between.  At the end he came back for an encore of  「上を向いて歩こう」 (Ue wo Muite Ikou or The Sukiyaki Song), to which everyone sang along.
Earlier in the week, I also had the chance to interview Jero for a feature article in the upcoming August issue of Chopsticks.  It was cool to have the opportunity to talk one-on-one with this down-to-earth talent.  Make sure to take a look when the magazine comes out!