WIT Life is a periodic series written by professional Writer/Interpreter/Translator Stacy Smith (Kumamoto-ken CIR, 2000-03).  She starts her day by watching Fujisankei's newscast in Japanese, and here she shares some of the interesting tidbits and trends along with her own observations.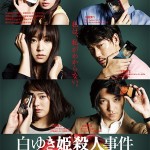 This weekend wrapped up Japan Society's annual film festival Japan Cuts, and all of the films that I caught out of the 28 presented this year were wonderful.  I particularly enjoyed the opening film on the first Friday of the festival, The Snow White Murder Case (白ゆき姫殺人事件).  This movie made its U.S. premiere, and told the story of the murder of a beautiful young office worker.  The prime suspect is her plain co-worker who has disappeared following the murder, and in the online world the case is made for her guilt before the official investigation takes place.  As interviews are carried out with others at the company and the truth is gradually revealed, viewers come to realize how culpable we are in automatically convicting suspects based on hearsay and popular opinion.  This film skillfully highlights just how pernicious social media can be in stringing people up before they have the opportunity to defend themselves.  Although this sounds like a dark story, it also has comic moments that serve to lighten the mood.
Two kid-centered films that I liked more than I expected were Maruyama, the Middle Schooler (中学生円山)  and Hello! Junichi (ハロー!純一), both of which use dance and humor to great effect.  The former focuses on a 14-year old in the height of puberty who uses his active imagination to escape reality.  His relationship with the bumbling single father (played by Tsuyoshi Kusanagi) who moves into his apartment complex makes the film.  Kusanagi helps Maruyama to further develop his fantasies, all the while making us doubt that he really is who he says he is.  I found this comedy entertaining, especially when Kusanagi's righteous character lectures his new neighbors about how to properly sort the trash, etc.  One ironic scene shows him lecturing Maruyama about running around naked, when this was something Kusanagi arrested for in real life a few years back, causing quite a scandal.  Hello! Junichi tells the story of this eponymous 3rd grader and his ragtag team of friends, all with their own concerns and dreams.  Like in Maruyama, in their lives they are forced to deal with people possessing various degrees of ethics, and they sometimes seem to be more mature than the adults around them.  The evolving relationship with their young, beautiful student teacher is a particular highlight of the film.
Other films I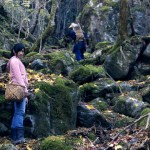 would highlight as worth seeing are The Great Passage (舟を編む), Pecoross' Mother and Her Days (ペコロスの母に会いに行く), and The Tale of Iya (祖谷物語).  The last of these three came in at a whopping 169 minutes, but it was a movie with a message.  It is as an environmentalist epic that takes place in Tokushima's Iya Valley, with lush scenery that was breathtaking at times and haunting at others (reminding me of another film I have written about here, The Ballad of Narayama).  The story highlights the struggle between preserving nature and modernization, as well as the balance between the everyday and the fantastic, and Iya residents' lives are faithfully depicted.
Director Tetsuichiro Tsuta is only 30 years old, and he was on hand after the film for a Q&A that provided insight into the film.  For example, when asked how to interpret the open-ended conclusion, he said that he leaves the viewer to decide whether the main character eventually embraces a new life in the city or remains at home for good.  He also revealed that the American environmentalist character campaigning against the creation of a tunnel was based on real-life Iya Valley resident and author Alex Kerr.
So many great films to see, so little time!