WIT Life is a periodic series written by professional Writer/Interpreter/Translator Stacy Smith (Kumamoto-ken CIR, 2000-03). She starts her day by watching Fujisankei's newscast in Japanese, and here she shares some of the interesting tidbits and trends along with her own observations.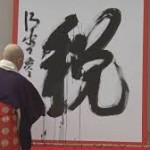 In a follow-up to yesterday's post about the top 10 buzzwords in Japan this year, the country's "kanji of the year" was just announced. 税 (zei) or tax was selected, referring to the consumption tax increase from 5% to 8% in April.  The last time the tax had gone up was in 1997 when it went from 3% to 5%.  Prime Minister Abe had to decide by the end of the year whether it would be further increased to 10% next year as planned, but he decided to delay this course of action to a later point in time.  The selection of 税, along with the other top candidates, indicates a mood of anxiety and uncertainty in Japan.
Coming in at #2 was 熱 (netsu), meaning heat, fever or passion.  This points to Japan's heating up during the Sochi Olympics earlier this year, where the country took 8 medals (including 41-year old レジェネド Noriaki Kasai's contribution to taking the bronze in ski jumping).  Another interpretation is regarding the emergence of Dengue fever in Japan for the first time in 70 years.  It closed down Yoyogi Park in Tokyo where it was thought to be concentrated, and caused a low-level panic as it spread to other parts of the country.
#3 was 嘘 (uso) or falsehood, which can be considered in tandem with #9 偽 (gi) or false.  Both of these reflect the series of financial and other scandals that were revealed in political circles, as well as in regard to drug use by famous figures in other fields.  #4 災 (sai) or disaster is related to #5 雪 (yuki) or snow and #7 噴 (fun) or eruption.  This refers to the large number of natural disasters that affected Japan this year, including recent record snowfall causing several deaths of elderly residents left isolated by the storm and the volcanic eruption of Mt. Ondake in September which killed 57 people.
You can find the full list of top 10 candidates, as well as winners from previous years, here (日本語).