Durham's Dashi Ramen & Izakaya
WIT Life is a periodic series written by professional Writer/Interpreter/Translator Stacy Smith (Kumamoto-ken CIR, 2000-03). She starts her day by watching Fujisankei's newscast in Japanese, and here she shares some of the interesting tidbits and trends along with her own observations.
I was in Raleigh, NC this past weekend for an interpreting conference (hosted by the fabulous Carolina Association of Translators & Interpreters), and I wanted to check out the new Japanese influences as it had been a while since I had visited the area.  After going to see a band in downtown Durham, I was looking for a place to grab a drink.  I hoped to come across somewhere promising close to the venue, so was thrilled when I saw a sign for Dashi Ramen Shop & Izakaya.
Unfortun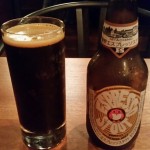 ately the downstairs ramen shop had closed at 10:30 (on Saturday night?!), but the upstairs izakaya was still open with a limited menu.  I was happy to find a wide selection of Hitachino beers, including an Espresso Stout I had never tried before.  Of course I needed some おつまみ (otsumami or snacks) to go with my drink, so I went with the takoyaki hushpuppies and the black sesame nori popcorn.  As expected, the espresso stout was heavy and delicious, but I was surprised at how great my other two choices were.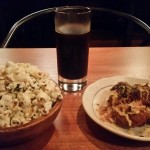 The takoyaki hushpuppies were served with yuzu kewpie mayo, homemade takoyaki sauce, nori and katsuobushi, and they were an interesting fusion of Japanese and southern food.  I am not a mayo fan, but found it to be nice and light and the yuzu flavor really yummy.  Each bite emphasized how the mayo was perfectly complemented by the remaining ingredients.  The black sesame nori popcorn also had a nice mix of tastes between the seaweed and the salt, and was quite addicting.
The downstairs ramen menu looks innovative and southern influenced, with ingredients such as NC catfish kamoboko and shredded smoked pulled pork topping the shoyu soup.  Dashi actually just opened last month, and I think it has great potential.  Next time I'm in town I look forward to sampling the ramen, and hopefully they will have extended their hours by then!