WIT Life is a periodic series written by professional Writer/Interpreter/Translator Stacy Smith (Kumamoto-ken CIR, 2000-03). She starts her day by watching Fujisankei's newscast in Japanese, and here she shares some of the interesting tidbits and trends along with her own observations.
This year's NY Asian Film Festival is showcasing 11 films as part of its focus on new cinema from Japan.  I had the chance to catch two of them, Permanent Nobara (パーマネント野ばら) and Chasuke's Journey (天の茶助).
The former flick stars the drama and film fixture Miho Kanno and the seemingly non-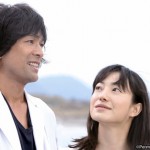 aging Yosuki Eguchi in a story set in a small fishing village in Shikoku (with dialogue in the regional dialect).  Kanno's character Naoko has returned to her hometown with her daughter, after divorcing her husband and leaving her life in Tokyo.  Her mom runs the only town's beauty salon, whose signature service is perms.  The regulars gather there to snack and gab while getting their hair done, and this convivial and often raunchy atmosphere reminded me of the relationships between the women in Steel Magnolias.
Various aspects of Naoko's life growing up in the village are revealed via flashback, including her romantic relationship with her high school science teacher played by Eguchi.  We get these revelations in bits and pieces, but it isn't until the end that a larger truth is revealed, providing a final twist worth waiting for.  The film is full of humorous moments, but there is also a sadder undertone of the village's women having a hard lot in life, particularly regarding their luck with men.  However, things leave off on a hopeful note when Naoko's childhood friend who is perhaps the most downtrodden of the bunch tells her, "We've lived for men for long enough; now let's live for ourselves."  Her assertion allows this movie that goes beyond simple interpretation to leave viewers with cautious optimism.
Chasuke's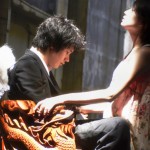 Journey was a fantastical ride featuring Kenichi Matsuyama as the titular character.  He works as a tea server in heaven alongside screenwriters whose words determine the fate of their characters.  Each screenwriter is in charge of one person on earth, and Chasuke has feelings for one of these characters, a mute young woman named Yuri living in Okinawa.  In a turn of events created by her screenwriter she ends up dying, and Chasuke gets so upset with this outcome that he goes down to earth to try and retroactively save her.
He is able to accomplish this, and along the way meets some new friends as well as foes (yakuza who are ubiquitous in SABU films) who teach him about himself.  One of the movie's themes is chance vs. destiny.  It really emphasizes the idea of being able to change your life if you have the will, despite what might be preordained (one of Chasuke's last lines is "Screw destiny!").  Though the violence was a bit much for me in parts, there are enjoyable plot twists and humorous moments throughout the film.
Director SABU attended the screening, and at the Q&A afterwards he introduced his older son in the audience, who is in the film as a soccer-playing younger version of one of the movie's main characters (his younger son plays a wheelchair-bound child who is healed by Chasuke).  SABU revealed that he likes working with Matsuyama (who appeared in his previous film Bunny Drop) because of the duality between his pure and crazy sides.  He also said that he hopes to share the culture of Okinawa, where he moved with his family from Tokyo four years ago, via this story (which is based on SABU's original novel).  I actually have the opportunity to interpret for SABU at a related event tonight, so I'm looking forward to meeting the director in person after having the chance to see his fantastic film!