Round Trip Heart/Our Little Sister
WIT Life is a periodic series written by professional Writer/Interpreter/Translator Stacy Smith (Kumamoto-ken CIR, 2000-03). She starts her day by watching Fujisankei's newscast in Japanese, and here she shares some of the interesting tidbits and trends along with her own observations.
A business trip to Japan prevented me from viewing the majority of the films at this year's Japan Cut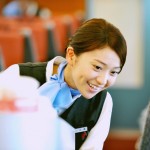 s at Japan Society, but I was able to catch Round Trip Heart (ロマンス) during the festival's opening week.  Starring Yuko Oshima best known as a singer from the idol group AKB48, this film tells the story of an emotionally lost young woman whose job is to serve refreshments on board the train servicing the hot springs area of Hakone just outside Tokyo.  It is through a chance encounter with a seemingly sleazy customer that enables her to examine her past and be able to look toward the future.  This seemingly simple but touching movie made its North American premiere at Japan Cuts and was released in Japan the next week, so it was cool to be able to get a sneak peak ahead of the domestic market.
Although I was sad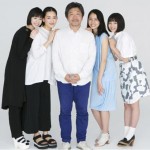 to miss most of Japan Cuts, being in Tokyo allowed me to check out the newest work from my favorite Japanese director, Hirokazu Kore-eda, who I have written about numerous times here.  It is called Our Little Sister (海街diary, literally Seaside Town Diary) and is based on the eponymous manga by Akimi Yoshida.  It tells the story of three grown-up sisters who live together in the house they grew up in after having been abandoned by both of their parents.  They receive word that their father has passed away, and at his funeral they meet for the first time the half sister their father had with the woman he left their mother for.  They decide to bring her back with them to the seaside town in Kamakura where they live, and this is where the story begins.
I found this film to be one of Kore-eda's most Japanese, meaning the pacing was slow and the scenes lyrical (the story was complemented by a beautiful soundtrack).  In terms of dysfunctional family relations (their long-lost mother returns for a visit upon hearing the news) and countryside setting, I found it to be reminiscent of his earlier film Still Walking (歩いても、歩いても).  In addition to the sisters who are the core of the story, viewers are also introduced to the other residents of the town, whose lives are of course deeply intertwined.  Some particularly enjoyable supporting characters and Kore-eda favorites are local restaurant proprietors played by Lily Franky and Jun Fukuda, and the girls' aunt played by Kirin Kiki (the former pair are from Like Father, Like Son (そして父になる) and Kiki was in LFLS in addition to Still Walking and I Wish (奇跡)).
I am curious to see how Our Little Sister is received once it makes its way to the States, as it does move at a pace much slower and offer less action than what U.S. audiences are used to.  But for the director's fans, it is classic Kore-eda and a must-see as most of his films are.