WIT Life is a periodic series written by professional Writer/Interpreter/Translator Stacy Smith (Kumamoto-ken CIR, 2000-03). She starts her day by watching Fujisankei's newscast in Japanese, and here she shares some of the interesting tidbits and trends together with her own observations.
I am down in DC for my latest interpreting assignment, and the whole city seems to be getting ready for its cherry blossom festival due to start in exactly two weeks.  Of course, nature doesn't always abide by man's schedule, and some sakura were already starting to bloom.  This makes me wonder whether there will be any blossoms left for the duration of the festival, as last year most were long gone by the end.  At any rate, although today's slushy snow makes it hard to believe, spring is just around the corner.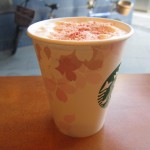 I recently returned from my annual pilgrimage to Japan for the Tokyo Marathon (as well as the Kumamoto Marathon again this year!), and over there everyone is gearing up for sakura season.  At Starbucks (one of the few place with free Wi-Fi so a frequent stop for me) I enjoyed the Sakura White Chocolate latte, a drink that comes in a cherry blossom adorned cup and is decorated on top with sakura white chocolate shavings.  This beautiful creation has a taste that is just the right amount of sweetness!  There is also a Sakura White Chocolate frappuccino, but I didn't have a chance to try that one.  While at Starbucks today, I found myself craving  a Sakura White Chocolate latte, but I had to settle for matcha.  It got me thinking that if the sakura flavor were introduced here in the U.S., it would surely be a big hit.  Potbelly already has a cherry shake during sakura season and Starbucks could ride on the popularity of its green tea flavor.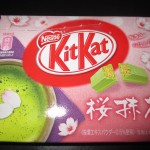 Until America's Starbucks welcome the sakura flavor, I'll have to settle for enjoying the omiyage I brought home for myself and friends, sakura matcha Kit Kats.  Although matcha Kit Kats are unarguably sublime, I dare say they become even more heavenly with the addition of sakura flavor.  It is a perfect combination with the matcha, the slight saltiness being a perfect balance to the chocolate's richness.  Although recently I've seen green tea Kit Kats popping up here and there in the States, I am yet to see the sakura matcha version so am doing my best to ration them (in Japan they are a limited edition flavor offered only during sakura season).  Due to their irresistibility, their lifespan will likely be shorter than that of the two-week sakura.